UPDATE AS OF!
April 2006.
This port was done by Dan Olson, Steven Fuller, and Ryan C. Gordon, with contributions from David Koenig, Dave Watson, among others.
The real nasty part (porting the Build Engine) was the work of:
Ryan C. Gordon
Dan Olson
Andrew Henderson
Christian Zander
Adrian Neill
Matt Helsley
Nicholas Vining
Matt Saettler
Steven Fuller
A cast of thousands.

Now! All You Need Is IC or(DukesterX)For Your New Duke3d_w32 port,Make sure you put this in the C:\Duke3d\Duke3d_w32_v19.7.1\bin <---Folder Or it Won't Work
Description
This application will allow users to connect to the host, which is set up at one location, then each will have the ability to play Duke Matches or Co-op play on the Duke Nukem Win32 port by Rancidmeat Project and now will work with JonoF's Duke3D port for single player games. The application has been designed to have the look and feel of Online Gaming Technologies Internet Commit application (IC), now will work with Windows XP!, please make sure that your Duke Nukem port is set up properly on your system. This application will not alter any Duke Nukem settings.
Also please make sure you have the Visual Basic 6 runtimes installed. They can be found here
UPDATE AS OF!
07/19/07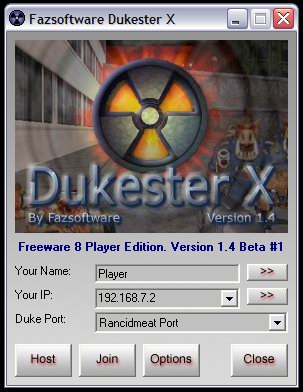 Enter subhead content here